Government Plans New Gun Licence Amnesty, Order in Council Shows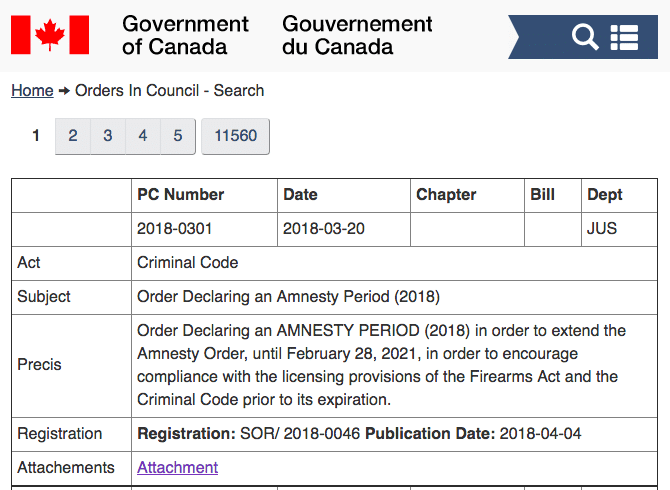 TheGunBlog.ca — The Canadian government, which last week proposed a law to ban more guns, is planning an amnesty to help firearm owners avoid jail, according to a notice on a government website.
People who own guns without the proper permit will have until the end of February 2021 to get the papers, according to the draft text of a directive from the Minister of Justice, known as an Order in Council. It may contain more details and restrictions that have yet to be published.
(Update April 5: The government published more details in the Canada Gazette dated April 4. It provides one of the best explanations I've seen of how the firearm-classification system works, and why gun owners are so worried about future bans.)
The government said on March 20 when introducing Bill C-71 that it would create a temporary amnesty for owners of newly prohibited guns. The measure promotes compliance and makes it easy to ban personal property without having to confiscate it immediately.
Bill C-71, the Liberal government's planned firearm law, would immediately ban more than 10,000 rifles and create a new class of licence to let existing owners keep them until they die, after which they could be confiscated. It would also hinder gun buying, require records of all new purchases and simplify prohibitions.
"For owners of the Ceská Zbrojovka and SAN Swiss Arms firearms impacted by the repealed status, the Government will pursue measures (such as an amnesty) to protect owners from criminal liability for possession of a prohibited firearm while they are coming into compliance with the grandfathering requirements," the Ministry of Public Safety said on its website.
The Firearms Act of 1995 threatened to turn an estimated 3 million gun owners into criminals and punish them with 10 years in prison if they had guns without a licence, even if the firearms were legally bought and owned. That law also was passed by the Liberals.
Today more than 2 million men and women have firearm-ownerhsip permits and manage more than 10 million rifles, shotguns and handguns safely and responsibly.
The summary of the Privy Council's Order in Council No. 2018-0301, dated March 20, reads: "Order Declaring an AMNESTY PERIOD (2018) in order to extend the Amnesty Order, until February 28, 2021, in order to encourage compliance with the licensing provisions of the Firearms Act and the Criminal Code prior to its expiration."
An attachment to the directive reads: "Her Excellency the Governor General in Council, on the recommendation of the Minister of Justice, pursuant to subsection 117.14(1) of the Criminal Code, makes the annexed Order Declaring an Amnesty Period (2018)."
© 2018 TheGunBlog.ca
---
The most important part of gun rights isn't "gun," it's "rights."
---