'Non-Restricted' Gun Owners With Expired Licences Now Face Jail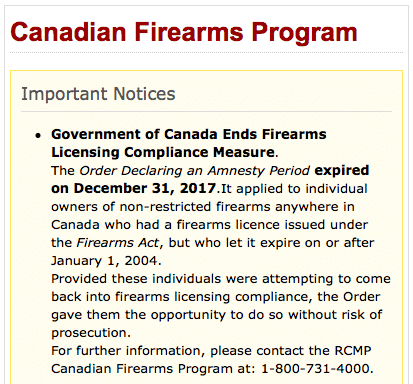 TheGunBlog.ca — If you have a "Non-restricted" shotgun or rifle and your gun licence expired more than a month ago, today's ending of a government amnesty means you risk going to jail, the RCMP said.
The government said in May that the Order in Council that allowed the amnesty would end permanently today. The amnesty had been extended several times over the past decade to let firearm owners with expired licences renew them without risking criminal charges.
"It applied to individual owners of non-restricted firearms anywhere in Canada who had a firearms licence issued under the Firearms Act, but who let it expire on or after January 1, 2004," the Royal Canadian Mounted Police said today on its website. "Provided these individuals were attempting to come back into firearms licensing compliance, the Order gave them the opportunity to do so without risk of prosecution."
Having a gun without a licence became a crime in Canada after the Liberal Party-controlled government passed the Firearms Act in 1995. A permit protects owners from being charged with illegal possession and going to prison for up to 10 years.
Owners whose licences expired after November 30 have six months to renew or face prison.
Today almost 2.1 million men and women have licences, which are valid for 5 years. In the past 5 years, 441,573 people didn't renew. Some of them no longer owned guns.
The RCMP, which manages the licensing system, isn't supposed to know who has "Non-restricted" firearms because the police were ordered to destroy ownership records in 2012. But they kept some data on all owners and kept all data related to Quebec.
Update on 11 Jan. 2018: The RCMP removed the notice from its home page today.
© 2017 TheGunBlog.ca