Gun Licences, Handguns and AR-15s Rose to Records in October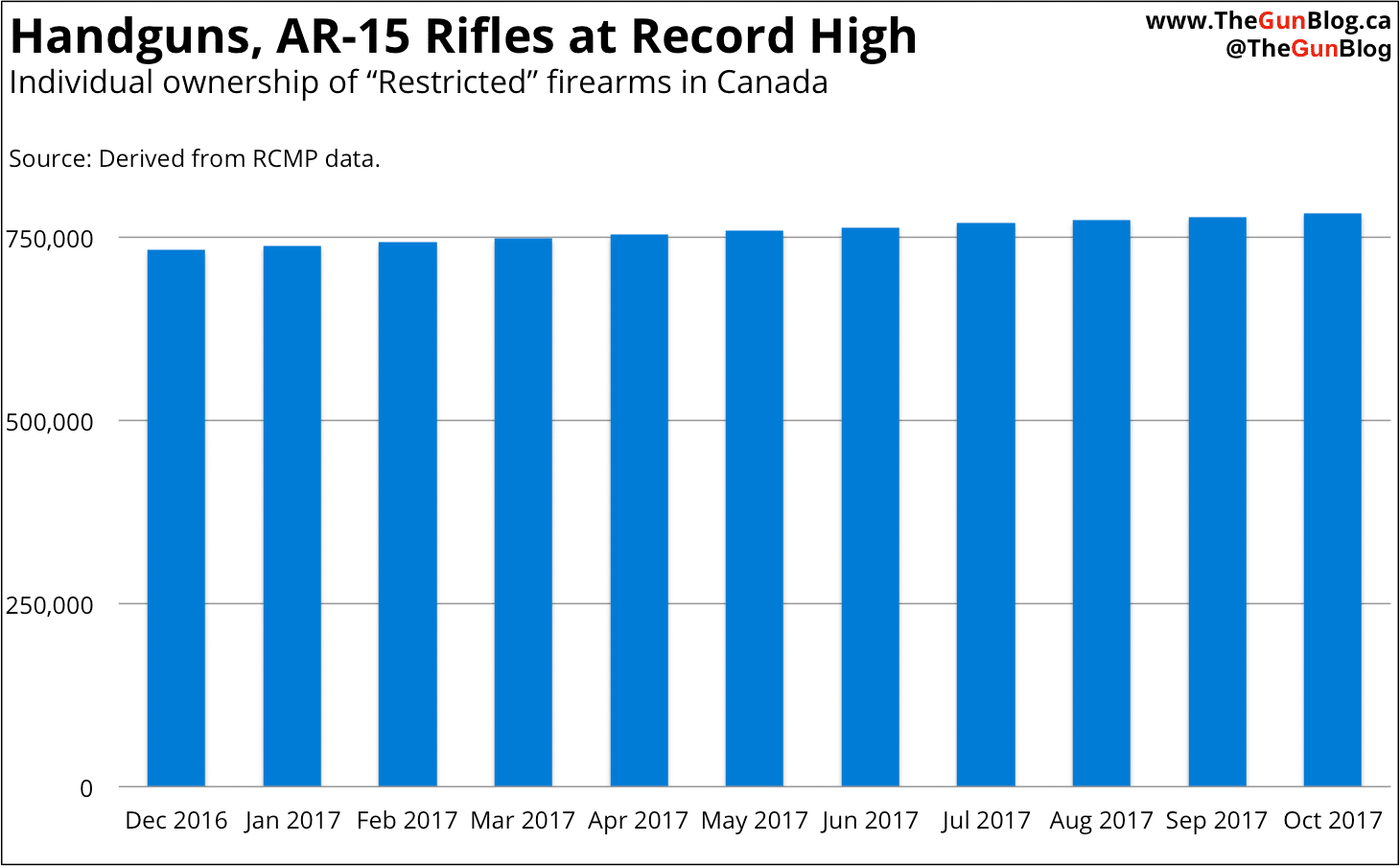 TheGunBlog.ca — Here's some bright news on this dark anniversary: The number of Canadians with gun licences rose to a record in October, and individual ownership of handguns and AR-15 rifles climbed by more than 1,000 a week to a new high.
---
Highlights
Licences rise in western provinces and Ontario, fall in Quebec and Maritimes.
Ownership of 'Restricted' firearms climbs in all provinces and territories.
More than 90,000 people have passed safety training this year.
---
Individual licences totalled 2,086,333 at the end of October, the latest month for which data were available, the RCMP told TheGunBlog.ca last month in an e-mailed response to questions. That's 0.5 percent more than the 2,076,840 at the end of December 2016.
Ownership of "Restricted" firearms, a government label that includes handguns and semi-automatic AR-15s, climbed in all provinces and territories, gaining 6.8 percent to 783,478 from 733,542 at the end of last year.
Dark Anniversary
The increases are particularly welcome today, one of the darkest anniversaries in the history of Canadian shooting. The Liberal Party passed the Firearms Act on this date in 1995, creating a regime that regards lawful gun owners as less-than full citizens, allows police to break into homes to confiscate property, and can send people to jail over paperwork.
The gains show that tens of thousands of men and women overcome the hurdles each year to buy guns. They're investing the time, money and effort needed to attend safety courses, take exams and pass background checks to become safe hunters and sport-shooters. Activities such as 3-Gun, where competitors use shotguns, rifles and pistols, are gaining in popularity across the country.
The new licensees are expanding the community of gun owners as the government prepares to pass a new law that promises to place additional limits on lawful shooting. Saskatchewan, the home of the minister planning the law, had the third-fastest percentage increase in the number of new licence holders this year.
Forecasting Demand
Gun stores study trends in firearm licensing, legislation and ownership to identify their potential customers and forecast demand. This has been a "very fractured year" for the gun market, Wes Winkel, the president of Canada's main firearm-industry group, said a month ago.
Licensing rose in the western provinces and Ontario, while it declined in Quebec and the Maritimes. The increasing number of westerners seeking permits hasn't translated into shopping for guns and gear.
Fires and floods in British Columbia and Alberta shut down hunting and shooting and contributed to closing a major chain of gun stores. Sales have been better in eastern Canada despite the shrinking number of shooters, Winkel said last month.
90,000 Pass CFSC, CRFSC
It's illegal to buy or own a firearm in Canada without a police-approved Possession and Acquisition Licence. In addtion to the 2.1 million PAL holders, millions of unlicensed people shoot legally under the supervision of licensed family, friends and target-range staff.
More than 56,000 people have passed the Canadian Fireams Safety Course this year, and more than 34,000 have passed the "Restricted" version, the RCMP said, based on partial results from instructors. Many haven't yet received their licences.
Highlights: Licensing Dec. 2016 – Sept. 2017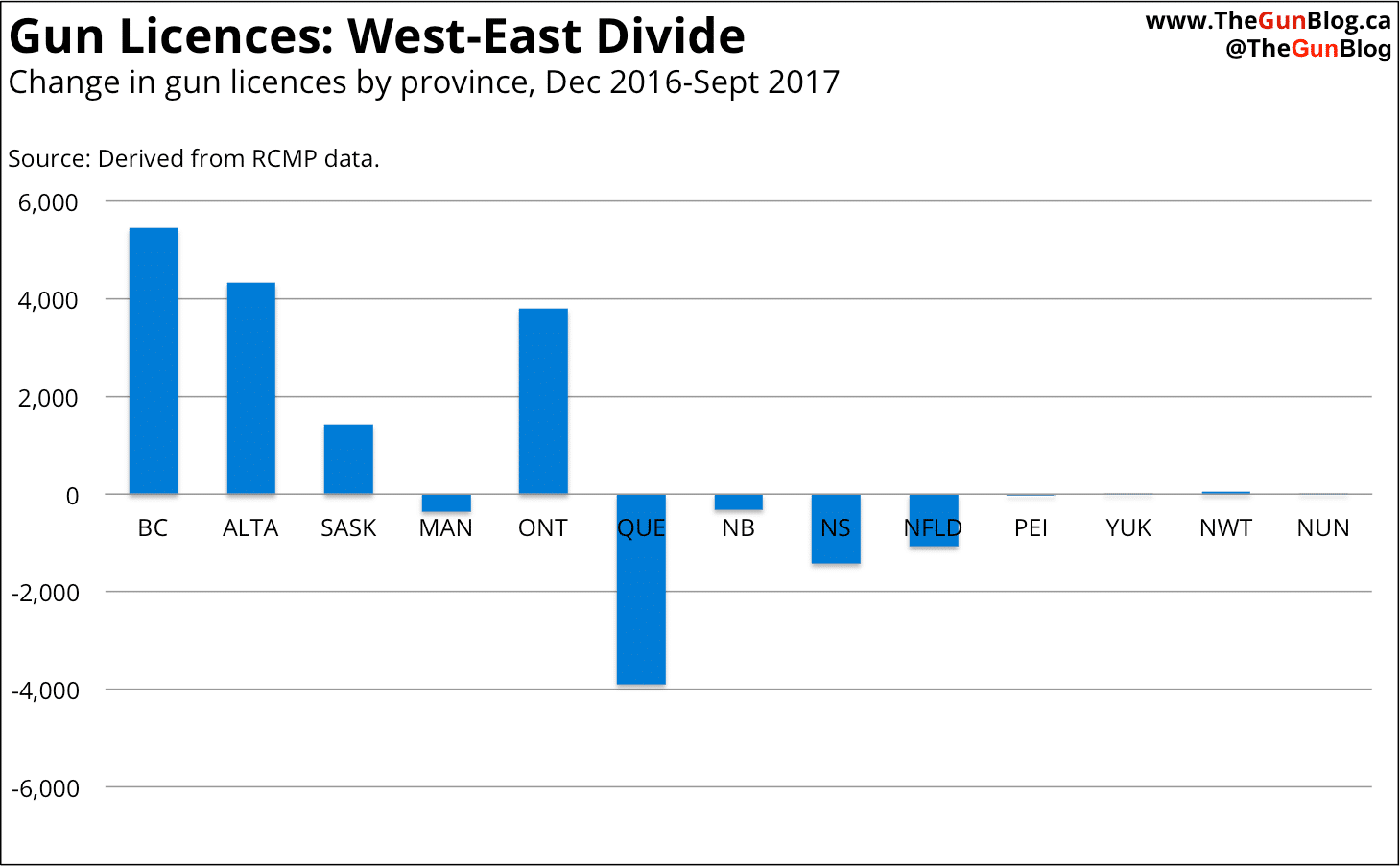 Licences at end of September: 2,084,850.
British Columbia had the fastest growth at 2 percent, followed by Alberta, putting them on course for their 11th year of gains.
Saskatchewan, the home of the minister planning the anti-gun law, rounded out the top three. The three westernmost provinces contributed 11,215 licensees to the total.
Ontario, with the greatest number of licence holders, added 3,802, an increase of 0.7 percent.
Nova Scotia had the steepest drop at minus 1.9 percent, followed by Newfoundland and Labrador. New Brunswick and Prince Edward Island also slumped.
Quebec fell 0.8 percent, erasing 3,892 licencees from the total at Dec. 31. The province is on course for its fifth straight annual decrease.
Manitoba shrank 0.4 percent, losing 355 licensed shooters.
Highlights: 'Restricted' Firearms Jan. – Oct. 2017
All provinces and territories gained, for a Canada-wide increase of 6.1%, or 44,843 firearms, since January.
Ontario +7.4%, 17,823 firearms.
B.C. +5.7%, 8,240 firearms.
Alberta +5.0%, 7,935 firearms.
Quebec +6.2 percent, 4,527 firearms.
© 2017 TheGunBlog.ca