First Take: Inside Today's Study of 'Firearm Injuries' in Youth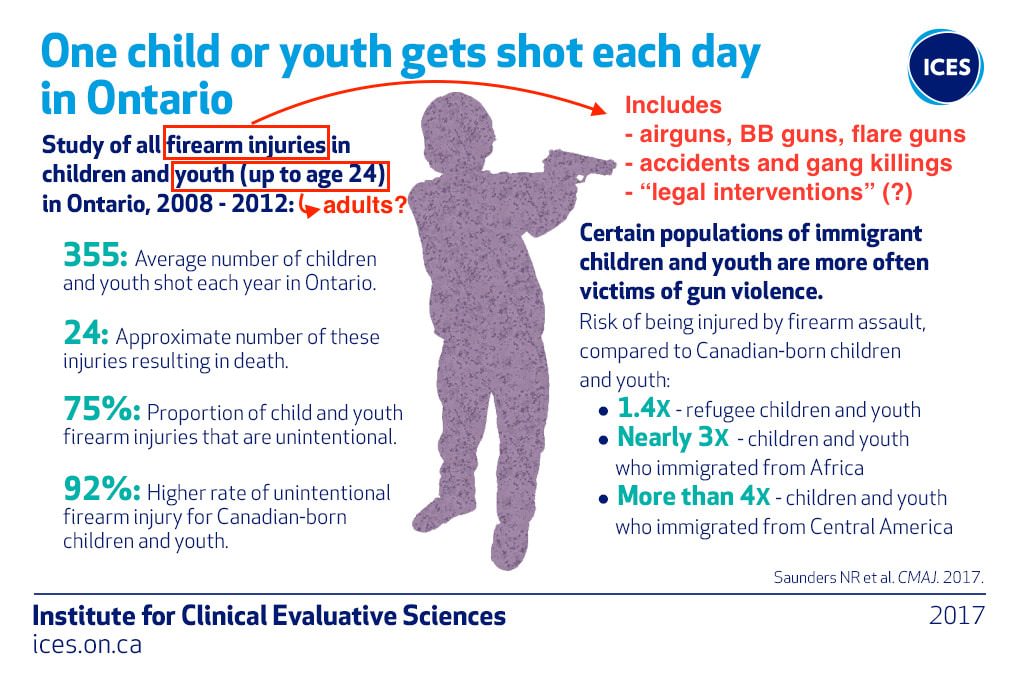 The Canadian Medical Association Journal released a study today showing that an average of one child and young adult was shot each day in Ontario between 2008 and 2012.
The following is some context based on what we know and what we don't know. TheGunBlog.ca has requested an interview with the lead researcher.
Special thanks to Daniel Fritter of Calibre magazine for his input, as well as to many followers on Twitter.
See also TheGunBlog.ca's Q&A with the study's lead researcher.
Quick Take
Researchers publish a study saying that, in Ontario between 2008 and 2012, an average of one child or young adult was injured or killed every day by a projectile from a "firearm."
"Firearms" include handguns, rifles, shotguns, airguns, BB guns, flare guns, paintball guns (and maybe airsoft guns. Also includes police guns, but the number of injuries was zero.)
Study includes accidents, crimes and "legal interventions," and excludes suicide. About three-fourths of projectile wounds were accidents, one-fourth were crimes.
The study is original, collecting statistics on projectile injuries and suggesting a link between injury and the wounded person's region of birth.
The mass media publish headlines such as, "A young person is shot every day in Ontario, Sick Kids study finds" (Toronto Star) and "1 child or youth injured by gunfire nearly every day in Ontario, pediatricians find" (CBC).
The researchers use their study to call for more restrictions on shooters and firearms.
Flaws and Limitations
Bad Medicine: Even though the study presents no information about the shooters, the firearms they used, the projectiles they used, the type or severity of injuries they caused, where or when or how the shootings happened, the researchers propose a remedy: more restrictions on shooters and firearms. How responsible is it for a doctor to propose a cure before knowing the problem?
Definitions: The study's criteria for "firearm" are too broad to be meaningul.
Disclosure: The journal article omits that airguns, BB guns, flare guns and paintball guns were counted as firearms, leaving readers feeling confused/misinformed.
Injury: The study doesn't distinguish among cause/type/severity of injury, from boo-boos to severe, e.g. young girl hurting her foot with a BB, a young boy accidentally shooting a buddy with his mother's rifle, a young man getting bruised playing paintball, or a young gang member killed by a rival all count as youth injured by firearms, in this study.
Age: It's unclear why the study focuses on ages 0-14 and 15-24, and stops at 24.
Gun Use: The study doesn't compare rates of gunshot wounds to rates of gun use. Statistically, for many activities, the more we do them, the greater the risk of injury from or during them. Could this apply to shooting, too?
Education, Training: The study doesn't compare rates of gunshot wounds to rates of education and training in firearms safety and proficiency.
What Did the Canadian Medical Association Journal Say?
Title: "Risk of firearm injuries among children and youth of immigrant families"
First Sentence: "Firearm injuries are a substantial cause of morbidity and mortality among children and youth."
First Sentence of Press Release: "Every day a child or youth is shot in Ontario and 75 per cent of those injuries are unintentional, according to a new study from the Institute for Clinical Evaluative Sciences (ICES) and The Hospital for Sick Children (SickKids)."
What Were the Key Findings?
1,800 children and young adults were accidentally or intentionally shot during the 5-year period, or about one per day.
Canadian-born boys and young men were shot more often by accident. Foreign-born boys and young men, especially refugees and immigrants from Africa and Central America, were shot more often by criminals, on purpose.
Most shooting injuries happened in cities to young men. The poorer the neighbourhood, the more people were wounded by projectiles.
What Is a Firearm?
Defining "firearm" isn't easy. You might say it's a machine designed to fire a cartridge using a propellant (modern cartridges) or explosive (black powder), and send a projectile down a barrel. Maybe add criteria related to energy, power or speed.
Here is what Statistics Canada said in "Firearms and violent crime in Canada, 2012." For the pruposes of the Uniform Crime Reporting and Homicide Surveys:
a firearm is any barrelled weapon from which any shot, bullet, or other missile can be discharged and that is capable of causing serious bodily injury or death to a person.
Is an airgun, BB gun, flare gun, or paintball gun a weapon? Can a BB cause serious bodily injury or death? Sure, and you could use a feather pillow as a lethal weapon. Defining "firearm" and "weapon" is a real issue for the legal system, and maybe for medical research.
How Do Projectile Injuries Compare to Other Injuries?
What Else Happened Today?
Recommendations for government

The Canadian Paediatric Society urges all levels of government to legislate stricter controls on the acquisition, transport, ownership and storage of firearms. To reduce the availability of firearms to youth, the CPS specifically recommends the following:

Measures to reduce the illegal importation of firearms into Canada, especially from the United States.
Tighter restrictions on semi-automatic (military style) firearms; their use increases the lethality of mass shooting incidents.
Evidence-based, appropriately funded gang prevention initiatives in communities where youth are at high risk for gang involvement.
Research on risk factors for targeted school violence, along with evidence-based programs to prevent bullying in schools and improve access to mental health services for children and youth at risk.
Classify air guns and BB guns whose projectile velocity is great enough to cause eye or skin penetration as firearms under Canada's Firearms Act. Regulate air guns and BB guns with lower projectile velocities under the Canada Consumer Product Safety Act.
General Comments/Questions
Why are the researchers proposing a solution without understanding the situation?
What prompted the researchers to look at links between projectile wounds and the injured person's region of birth? Did they examine the relationship of gunshot wounds to use of guns, education and training in gun safety and proficiency, gang affiliation, or criminal activity? Could it be that Canadian-born young adults have more shooting accidents than immigrants because they shoot more than immigrants?
Are there plans to follow up with research into region of origin of shooters?
Does the research offer any clues about the profile of shooters, in both accidental and intentional shootings?
Can we sort the data by type of firearm or projectile, intentional vs. unintentional discharge, whether shooter was in legal possession of the firearm, severity of injury, police vs. non-police discharge, etc.?
How did this research originate? Why was it published now?
Why was the study given to certain media before being released to the public?
Do any of the researchers, funders or related organizations have direct or indirect ties to the Canadian Coalition for Gun Control?
(For a different take on firearms, this was published today by Vice: The LGBTQ Community Is Locked and Loaded: Spurred by fear of Trump's America, the LGBTQ community is strapping up.)
Sources
Canadian Medical Association Journal
Canadian Paediatric Society
Media, Blogs
Related (Updated 11 March 2019)
© 2017 TheGunBlog.ca