Kevin O'Leary Gets So Much Wrong About Guns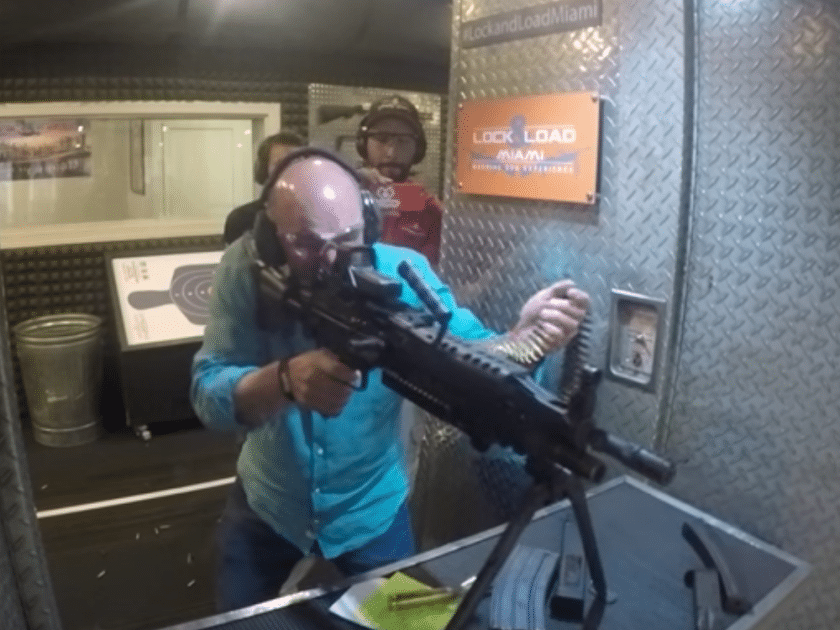 Kevin O'Leary, considering a run for leader of Canada's Conservative Party and then possibly prime minister, gets so much wrong about guns.
There's nothing bad about someone — even a prime minister — not being interested in or experienced with guns, target shooters or hunters. Maybe it's not their thing. It's easy to be wrong even for gun lovers, because of all the falsehoods, half-truths, legends and lies floating about, and all the miseducation from movies and television.
Good Politician, Shooter?
I don't know if O'Leary would make a good politician or prime minister. I don't know if he is an experienced shooter. If he decides to run, I just hope he hears from more men, women and youth in our country who are gun collectors, shooters and hunters, and who don't want to kill anyone. There are more than 6 million of us.
Following are statements O'Leary made about his experience shooting an automatic AR-15 rifle and about gun laws in the U.S. He was speaking in a 10-minute interview with Evan Solomon of 580 CFRA radio in Ottawa following the Pulse nightclub massacre in Orlando in June. A link to the comments was posted this month on CanadianGunNutz and Gun Owners of Canada.
This excerpt starts at 2:22 in the podcast and was transcribed by TheGunBlog.ca.
Kevin O'Leary: The majority of the damage was done with a weapon that shoots 700 rounds in a minute. There is no need for anybody to have that. … There's going to be a federal push to outlaw assault weaponry at the civilian level. It just doesn't make any sense, because you would not have a hundred people killed and wounded unless you had a weapon that could shoot.

Kevin O'Leary: I've had a chance to go to the FBI shooting range and shoot this rifle, this particular one.

Evan Solomon: You're talking about the AR-15?

Kevin O'Leary: Exactly. In a matter of seconds, you shoot so many bullets. It sprays like a water gun. It's an unbelievable weapon. You would never hunt with it. You would only use it to kill people. So unless you're an accredited law-enforcement officer, what the hell are you doing with that rifle? To me, the fight is going to occur on weaponry that is automatic of this nature. I actually fired one that's a pistol version that almost shoots twice that. That is a weapon that is just used to kill everybody in the room you're in. Who should have that? Nobody.
Comments by TheGunBlog.ca
O'Leary tells us that he used an AR-15, and that someone would only use an AR-15 to kill people. Is he telling us he's a murderer, or is he just wrong about guns?
O'Leary tells us he shot an automatic AR-15, and that nobody should have one. That sounds like a double standard, one for him and one for everyone else. Is that the kind of prime minister we want?
O'Leary suggests that the only people who would have an AR-15 are mass murderers. The (tens of?) thousands of non-homicidal Canadian men and women who own AR-15s might disagree.
The Pulse killer didn't use an AR-15.
The Pulse killer didn't use automatic firearms.
The AR-15 was originally designed by ArmaLite in the 1950s as an automatic rifle for the U.S. military, what later became the M16. Most people today refer to the AR-15 as a semi-automatic version.
Almost all AR-15s owned by civilians in Canada are semi-automatic.
Even though automatic firearms are capable of rapid fire, it can be difficult for shooters to hit multiple targets, and even more difficult to hit multiple moving targets.
A firearm's rate of fire can be stated in rounds per minute, but that theoretical rate is attainable only if the gun has a continuous supply of ammunition and if the firearm and ammo run flawlessly. Standard AR-15 magazines hold 20 to 30 cartridges.
Canada is home to more than 2 million men and women with police-issued firearm licences and who legally own more than 10 million guns. Add to that our family, friends and guests, and we are a community of at least 6 million responsible gun collectors, target shooters and hunters.
Update (04 Feb 2016): The photo at the top of this article is a screenshot from the Ottawa Citizen, based on a video that O'Leary published this week. Here is a CBC News clip with excerpts of the video showing O'Leary at a Miami gun range shooting several firearms, including the belt-fed machine gun.
If you got this far, you might also like my post on Gun Policies of Conservative Party Leadership Candidates
© 2017 TheGunBlog.ca