Highlights From Environics March 2023 Survey of Canadian Gun Owners
TheGunBlog.ca — Following are key points from a survey this year of Canadian gun owners by Environics Research Group.
The country's Liberal Party-led administration bought the survey to advance its failing gun confiscations.
The Environics report was delivered in March 2023 and made public this week.
Survey Snapshot
Contract Name: Buyback Program Awareness Campaign: Final Report
By: Environics Research Group
For: Canada's Department of Public Safety (which is overseeing the confiscation effort)
Survey Method: 15-Minute Online Survey of Self-Selected Gun Owners (Non-Random)
Number of Gun Owners Who Responded: 2,000
Contract Date: 01 September 2022
Final Report: 31 March 2023
Cost: $158,856.08
Comment
We're skeptical of the accuracy of some responses.
We still find the responses offer interesting trend indicators.
Highlights
1. Self-Defence Is a Main Reason to Own Guns
It's time for anti-gun activists to stop spreading the lie that having firearms and ammo for self-defence is unlawful, or that self-defence is unCanadian.
2. Own More Than 5 Guns? You're In the Top 7%
Maybe they meant: "How many firearm safes do you currently own?"
3. One-Fourth of Gun Owners Don't Have a PAL
Only 74% of gun owners have a valid, up-to-date PAL.
More than 25% of gun owners: Expired PAL, never got a PAL, out of date info, etc.
The licensing system has cost billions of dollars and is largely a failure.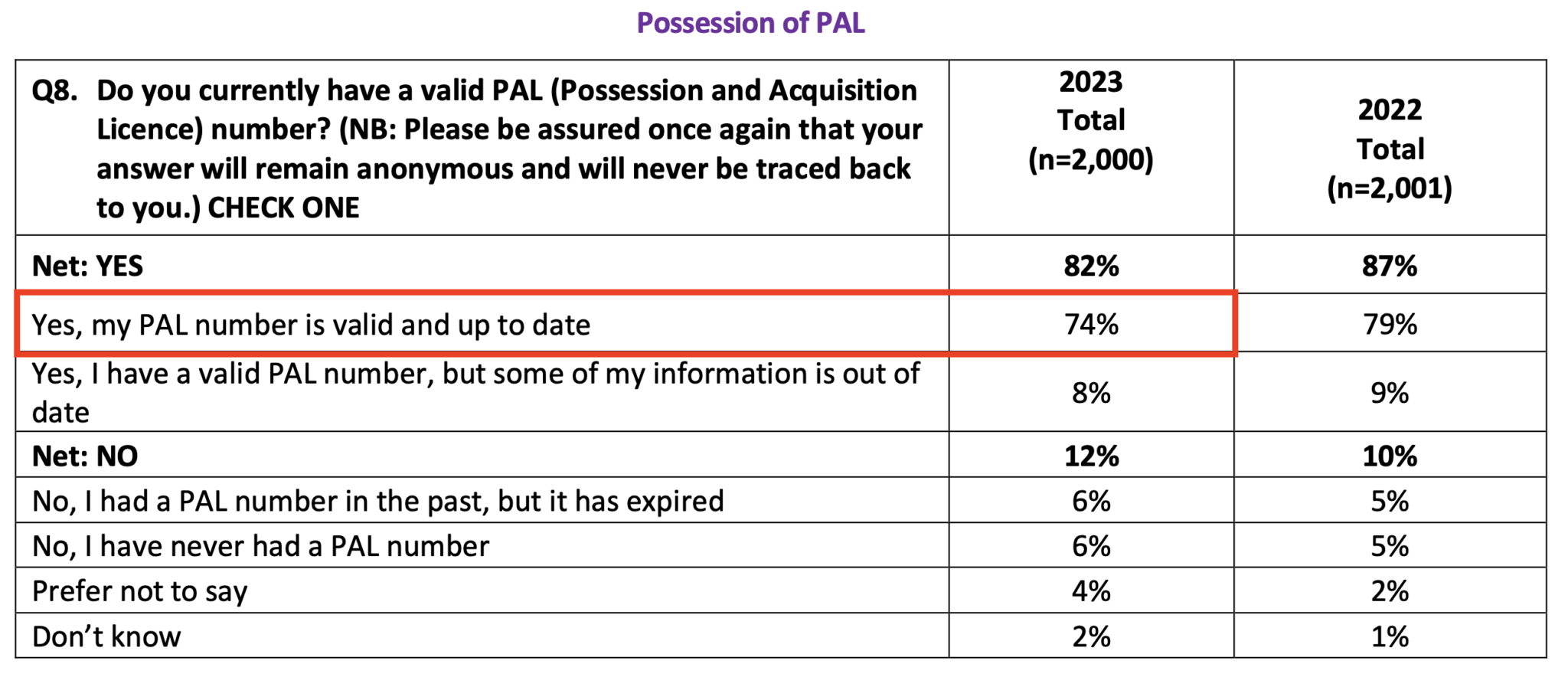 4. One-Third of Gun Owners Are Targeted by the Liberal+RCMP Attacks
Based on estimates of 3 million gun owners (with and without PAL), the confiscations could target 1 million adults, far higher than previously estimated.
5. More Gun Owners Are Refusing to Surrender Their Gear
The percentage of respondents refusing to surrender their guns almost doubled from 2022 to 2023, from 7% to 12%.
The percentage of respondents who agreed with the statement "Nothing would motivate me to participate" almost tripled from 2022 to 2023, from 7% to 20%.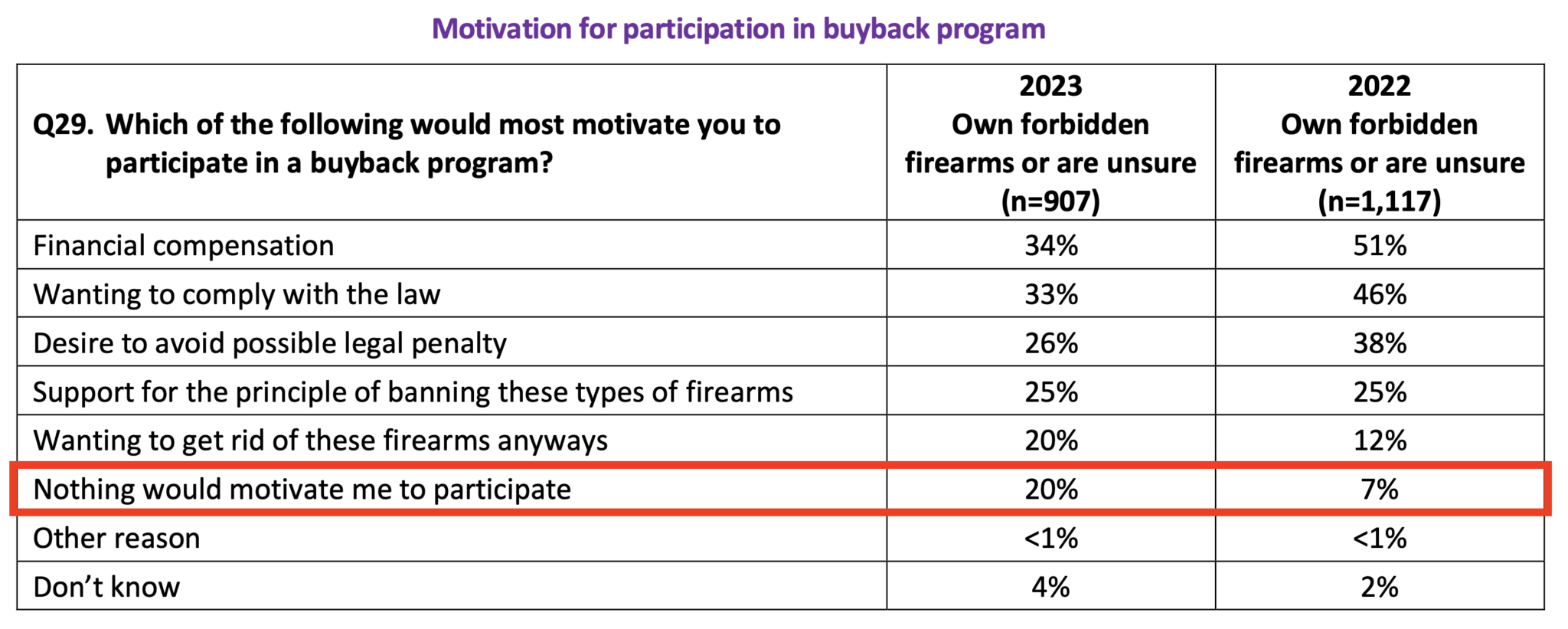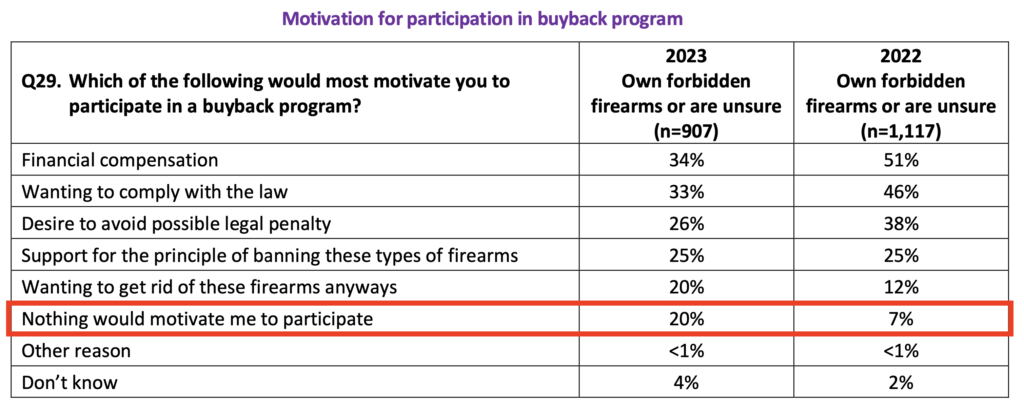 6. Why Gun Owners Say 'No' to Confiscation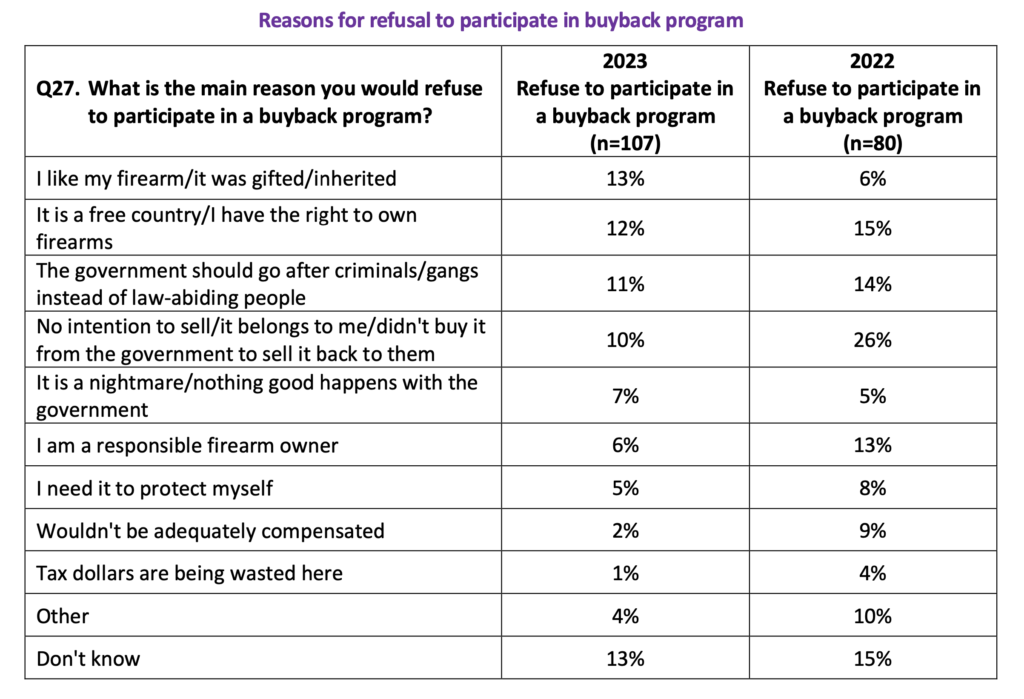 7. Some Gun Owners Are Anti-Gun
20% of gun owners believe owners of manual-action rifles and shotguns should be criminalized. Really?


8. Three Quotes
"There has been a significant decline over the past year in the proportion of firearm owners who may own newly prohibited firearms who say they would willingly participate in a buyback program." (Page 29)
"Most firearm owners believe that almost all types of firearms should be legal in most cases. A plurality now believes that semi-automatic handguns should be illegal in all or most cases." (Page 15)
"Most firearms owners had at least a passing familiarity with the ban …, however, those who used their guns infrequently were less likely to know about these regulatory changes." (Page iv)
9. Liberals Are Preparing Misleading Ads
The Liberals are preparing ads to deceive gun owners into believing the forced confiscations are a "buyback."
---
Environics Survey Report (PDF)
Source: Publications Canada
---
Related