Erin O'Toole Wins Conservative Party Leadership in Final Round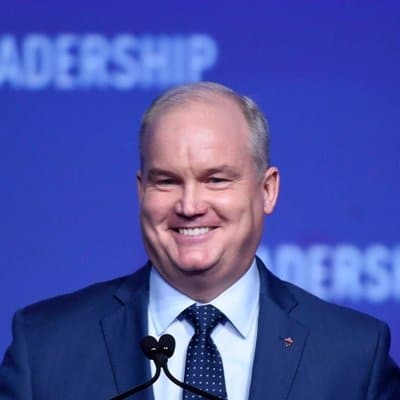 TheGunBlog.ca — Erin O'Toole, who proposed the most-detailed and comprehensive gun policies among the four candidates running to head the Conservative Party of Canada, was elected as the new party leader.
Why It Matters
Gun users and businesses have a strong defender to head the Conservatives, our only ally in the House of Commons.
O'Toole is in charge of opposing the governing Liberal Party in parliament and stopping their attacks and mass confiscations.
He will run in the next election to be prime minister. If he loses, more gun owners will become former gun owners.
Party members need to rally behind the new chief, even though almost 70% of members who voted didn't get their first pick.
Leadership Election Details
The Conservative Party announced O'Toole's victory shortly after 1 a.m. Toronto time today after counting almost 175,000 ballots, a record high.
He won a majority of the votes in the third and final round of an election where voters ranked their candidates by preference.
O'Toole beat Peter MacKay, Leslyn Lewis and Derek Sloan, all of whom advocated for the rights of gun owners.
What Happens Next
O'Toole and the Conservative Party will ramp up preparations for a general election that could come as early as this fall.
They have to develop a plan to restore justice and rights for the gun community, without alienating Conservatives who are hostile to gun users.
Beyond Guns: The Conservatives are the best hope to reverse Canada's decline and restore liberty, unity and prosperity.
What About Conservatives Who Didn't Favour O'Toole?
We had four strong finalists running for the leadership.
Ranking the four candidates on the ballot was difficult for many of us.
In the end, O'Toole won the contest. He's our guy now even if he wasn't everyone's No. 1 pick, and we all need to support him and the party in the general election.
What About Gun Owners Who Dislike Conservatives?
Guns are at the heart of Canadian culture, heritage and tradition. Millions of people from every political view and every party hunt, shoot and collect firearms.
At this time in Canadian history, politicians have weaponized private gun ownership. The only party in the House of Commons that isn't attacking hunters, sport shooters and firearm collectors is the Conservatives.
In electoral districts (ridings) where the Conservatives have zero chance of winning, you can play defence against the Liberals and vote for the strongest non-Liberal candidate, even if they aren't Conservative.
Context
O'Toole is a firearm owner who courted the gun vote, as did all four leadership candidates.
O'Toole's campaign manager, Fred DeLorey, is a former adviser to the National Firearms Association and to Conservative Prime Minister Stephen Harper.
Almost none of Canada's estimated 4 million gun owners voted in the leadership election.
Congratulations and Thank You
"Congratulations to Erin O'Toole, Canada's next prime minister!" said Nicolas Johnson, the editor of TheGunBlog.ca and a donor to the O'Toole campaign.
"Thank you to Andrew Scheer for his commitment to the party, and for standing up for millions of Canadian individuals and families who hunt and shoot responsibly."
"Thank you to all candidates who ran for the leadership, especially the four finalists."
---