Real Shooters Don't Hide Their Gun Porn
TheGunBlog.ca — Tens of thousands of Canadian shooters get Calibre magazine mailed to them in a package that masks the naked firearms on its cover. For Pierre Plourde, the desire to hide is why the gun-rights movement is failing.
Plourde, the Ontario-based criminal-defence lawyer and shooters'-rights activist, tweeted a photo of Calibre all wrapped up next to Handguns magazine, which ships in see-through plastic.
"This is why Canadian #gunnies will always lose: we are so ashamed of our sport," Plourde said on Twitter this week. "@Calibremag … comes in a plain white wrapper like a pornographic magazine, not like the proud gun magazines like @HandgunsMag."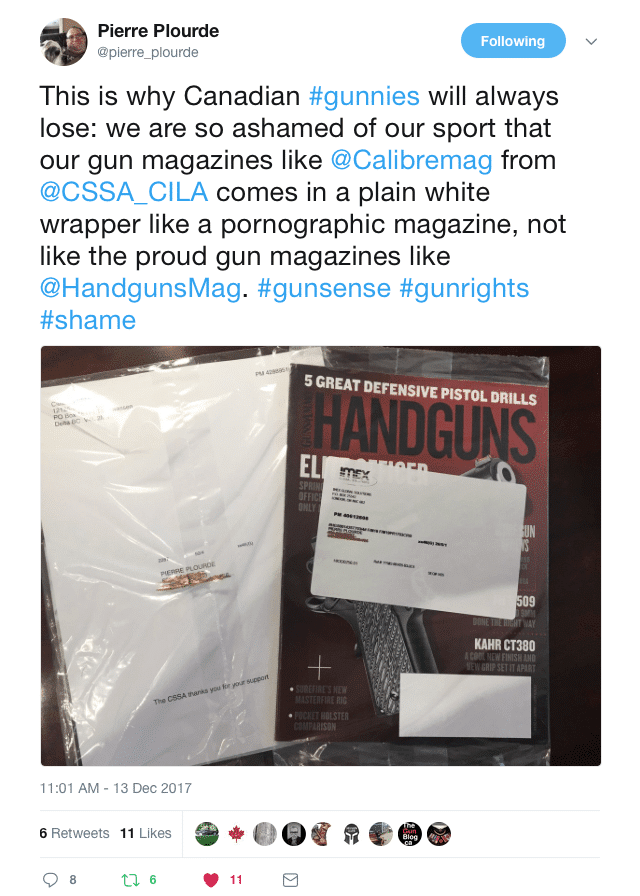 He's right. If we hide, we lose.
I know I'm part of the problem. Growing up in downtown Toronto, it was as if the first rule of owning firearms is that we don't talk about owning firearms. (Sorry, Fight Club.) That was a smart thing to teach a child in my situation. The trouble is, I haven't quite grown out of it.
Creating this website was a step to coming out of the gun closet and becoming an advocate and activist, but I still hide a lot of the time. I want my guns, gear and literature wrapped in generic, brown packaging. I tell myself it's prudence, but it's also cowardice.
"The papers are not there to hide the damned magazine," Calibre tweeted today in response to this article, saying the front sheet is the cheapest way to show the address, and the back sheet is a club letter or giveaway/donation notice. The publication's subscription page says each issue is "discreetly packaged within an opaque envelope for your security and peace of mind."
There are valid and compelling reasons to be discreet about what we do and what we read, whether it's a magazine full of cocked guns begging to have their triggers pulled, or anything else:
It's nobody's darn business. (Privacy)
We don't want Theo the Thief to think "gun magazine" = "gun collection" = "How can I steal it?" (Security)
Some of our family, friends, colleagues and neighbours are opposed to guns and the people who use them, and we don't want to jeopardize our relationships, our careers, or our peace. (Political Correctness, Politeness, Pragmatism)
Every hunter, shooter and gun owner in Canada has to grapple with this question at some point: How public do I want to be?
About 99 percent of Canada's 2.1 million licensed shooters have answered by running to the back of the closet and covering our mouths with duct tape.
I'm guessing our biggest gun-rights organization counts less than 2 percent of us as members. The most-popular firearm petition in Canadian history was signed by 1 percent of us. The other 99 percent are so stealthy that nobody knows we exist, to the point that many people believe guns are illegal. They may soon be right.
Plourde's remark stings because it's so true.
In a country where politicians, police, the press and the public are openly hostile to lawful shooters and hunters, hiding in silence guarantees one outcome: extinction.
© 2017 TheGunBlog.ca