RCMP's Top Gun Suppliers 2016: Colt Canada, M.D. Charlton, S&W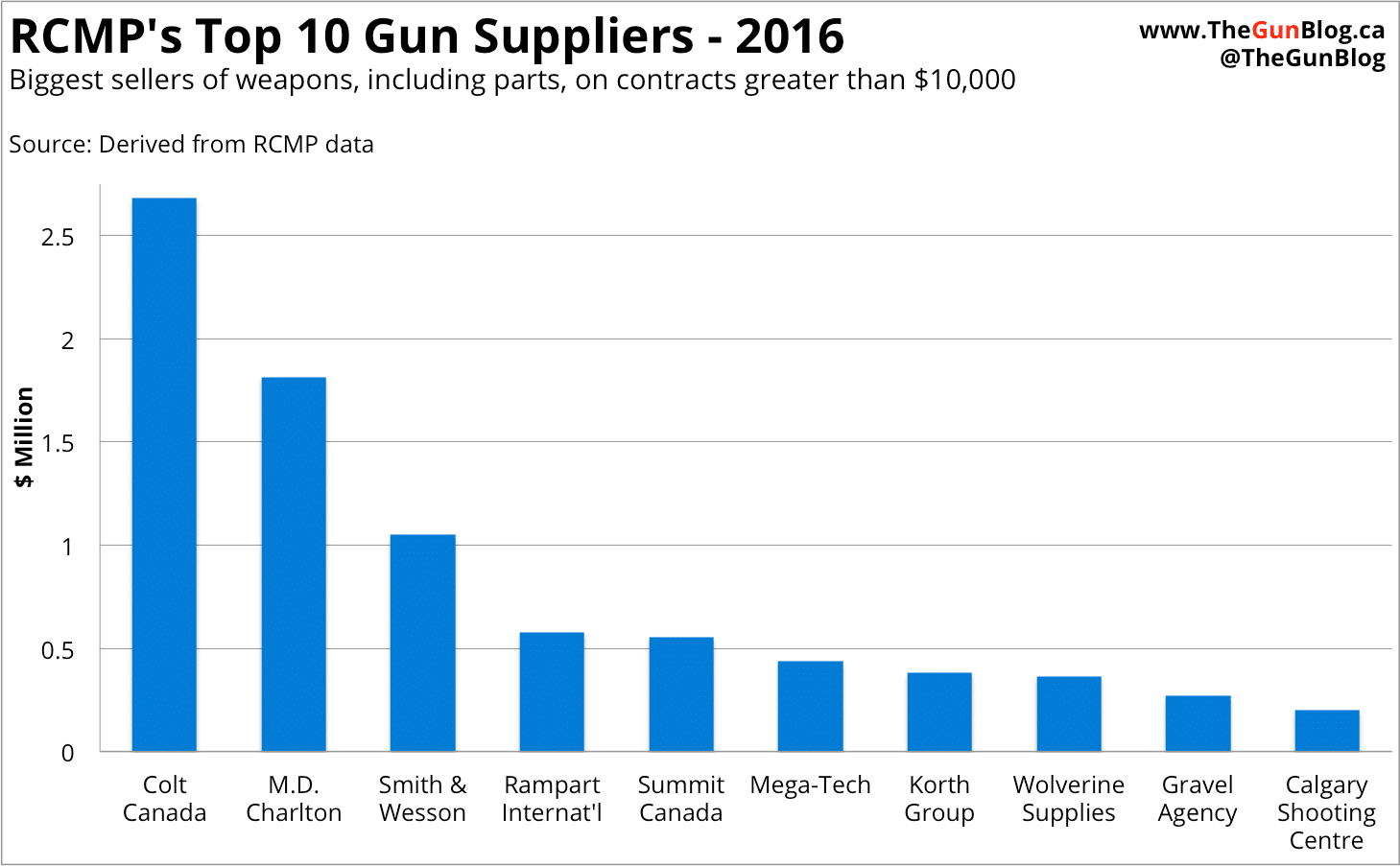 Colt Canada Corp. was the RCMP's biggest supplier of guns last year, as Canada's national police equipped officers with AR-15 rifles. M.D. Charlton Co., which sells SIG Sauer, Mossberg and Winchester among its brands, came second, followed by Smith & Wesson Corp. in third place.
The Royal Canadian Mounted Police bought more than $8.7 million of weapons and parts in 2016, according to calculations by TheGunBlog.ca based on contract reports on the RCMP's website. The amount includes only orders exceeding $10,000.
The federal police purchased $2.7 million in firearms from Kitchener, Ontario-based Colt Canada and $1.8 million in guns from Victoria, British Columbia-based M.D. Charlton, out of 21 weapons suppliers listed in the reports.
The top-two vendors accounted for more sales than all the other contractors combined.
The reports also showed that the RCMP bought $7.9 million of munitions and ammunition, almost all of which was supplied by the Canadian subsidiary of General Dynamics Corp. of the U.S.
RCMP's Suppliers of Weapons, Including Parts, in 2016 (Contracts > $10,000)
| Rank | Name | Amount ($) |
| --- | --- | --- |
| 1 | Colt Canada | 2,683,866 |
| 2 | M.D. Charlton | 1,814,859 |
| 3 | Smith & Wesson | 1,049,235 |
| 4 | Rampart International | 576,514 |
| 5 | Summit Canada | 552,380 |
| 6 | Mega-Tech | 436,717 |
| 7 | Korth Group | 383,823 |
| 8 | Wolverine Supplies | 364,841 |
| 9 | Gravel Agency | 268,158 |
| 10 | Calgary Shooting Centre | 200,713 |
| 11 | Questar International | 71,102 |
| 12 | 911 Supply | 63,090 |
| 13 | C&R Developments | 45,862 |
| 14 | Production Case | 38,724 |
| 15 | Millbrook Tactical | 35,962 |
| 16 | Valley Associates | 33,452 |
| 17 | GP Tactical | 20,997 |
| 18 | Custom Hardware Distributors | 20,684 |
| 19 | Acklands-Grainger | 17,157 |
| 20 | Cubic Defense Applications | 16,025 |
| 21 | Tetragon-Tasse Distributors | 13,113 |
| | TOTAL | 8,707,274 |
More News About Police, Business and Industry
© 2017 TheGunBlog.ca