CZ Scorpion EVO Approved by RCMP as 'Restricted' 5-Round Firearm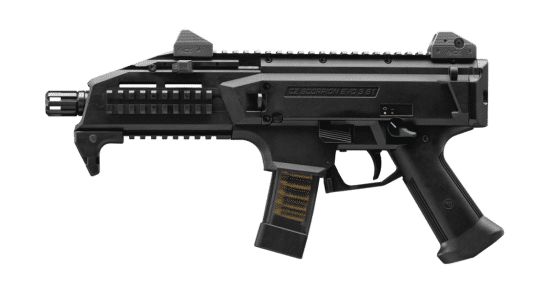 Ceska Zbrojovka AS's Scorpion EVO 3 S1 gun chambered in 9 mm was approved for sale in Canada after the RCMP classified it as a "Restricted" firearm for use with five-round magazines.
The CZ firearm sells without a stock for $1,146.15 at Wolverine Supplies, the Virden, Manitoba-based retailer said on CanadianGunNutz. The company said it has to pay the equivalent of $135 per stock, suggesting the price to individuals will be higher. Cartridge magazines may also be extra.
Wolverine said it has been negotiating the price with CZ since the Royal Canadian Mounted Police approved the Czech gun 10 days ago. The Canadian distributor said it convinced CZ to design a semi-automatic version of its Scorpion 3 A1 automatic sub-machine gun, saying it could be sold in the large U.S. market and around the world.
May Delivery
"After 4 years of work we have finally got the EVO 3 S1 Scorpion [sic] approved as a restricted firearm in Canada, the magazine capacity will be 5 rds," Wolverine President John Hipwell said on CanadianGunNutz. "We have placed an order for 350 pieces and we are told to expect a May delivery."
The RCMP approved SIG Sauer Inc.'s MPX 9 mm last week as a "Restricted" carbine for use with five-round magazines after almost a year and a half of review. Canadian Firearms Blog reported the Scorpion's approval earlier.
Firearms must be classified by the RCMP before they can be sold legally in Canada, and individuals need a police-issued licence to legally buy or own guns or ammunition. The police label firearms as "Non-restricted," "Restricted" or "Prohibited," with different laws and rules to purchase, own, store, transport and use guns in each class. Regulations on magazine capacity can differ for firearms in the same class.
'Very Disturbing' Views
Wolverine also commented on the industry and an unnamed "grey market importer."
"CZ is an extremely important supplier to Wolverine Supplies and I pray that this post will not change our relationship, but the views expressed on CGN this past week have been very disturbing to me as the true nature of the Canadian Firearms Industry business is often untold, for many varied reasons," Hipwell said on CanadianGunNutz. "If the weaners [sic, "wieners"?] and wankers on CGN insist on always supporting grey market importers they will kill their local Canadian dealers, do that and then you can really expect to get screwed."
© 2017 TheGunBlog.ca