Canadians Bought 90,000 Handguns Since Trudeau Said He's Killing the Market, RCMP Says
TheGunBlog.ca — Canada's government-licensed firearm users bought almost 90,000 handguns in the seven weeks after Prime Minister Justin Trudeau said he's killing the legal market, a shopping spree that set records.
We estimate total buying now exceeds 100,000.
To the best of our knowledge, this is the first time the numbers are being reported.
The Trudeau administration said today it's prohibiting handgun imports by government-licensed importers starting in two weeks. Almost every handgun in Canada is imported.

Trudeau will then criminalize all buying and selling by government-licensed business and individuals, and confiscate legally owned handguns when the owners die.
The free market remains unaffected.
Details
From May 30 when Trudeau announced his prohibitions to July 19:
Individuals applied for 89,575 handgun-ownership transfers, the Royal Canadian Mounted Police told TheGunBlog.ca today.

If a handgun was bought and sold multiple times, the total would include multiple requests for the same gun.

The transfer applications include 28,905 first-time purchases, said the RCMP, which approves (or not) each transaction and registers each gun to its owner. That means about one-third of new shopping was by first-time handgun owners.
Source: Robin Percival, a spokesperson for the Ottawa-based RCMP, sent the data to TheGunBlog.ca today by e-mail in response to our request for the information on June 29.
Analysis
Biggest Day: Thursday 02 June, with 7,277 handguns purchased
Daily Average Buying Before Trudeau's Announcement: 307
Daily Average Buying After Trudeau's Announcement: 1,756
Buying slowed as stores sold out of new models. The used market is still active, with guns offered for purchase selling out in minutes.
Handgun Ownership Rises to Records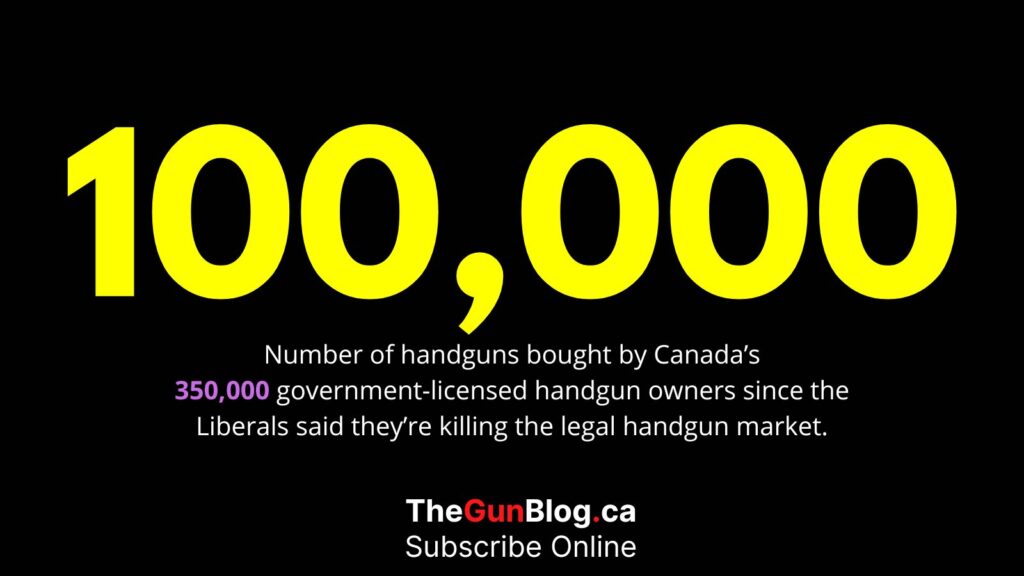 ---
Related
Corrections
Corrects spelling of Percival.
Deletes data and chart on individuals with registered firearms.