Shooting Federation Head Says Gun Law May Push Her Into Politics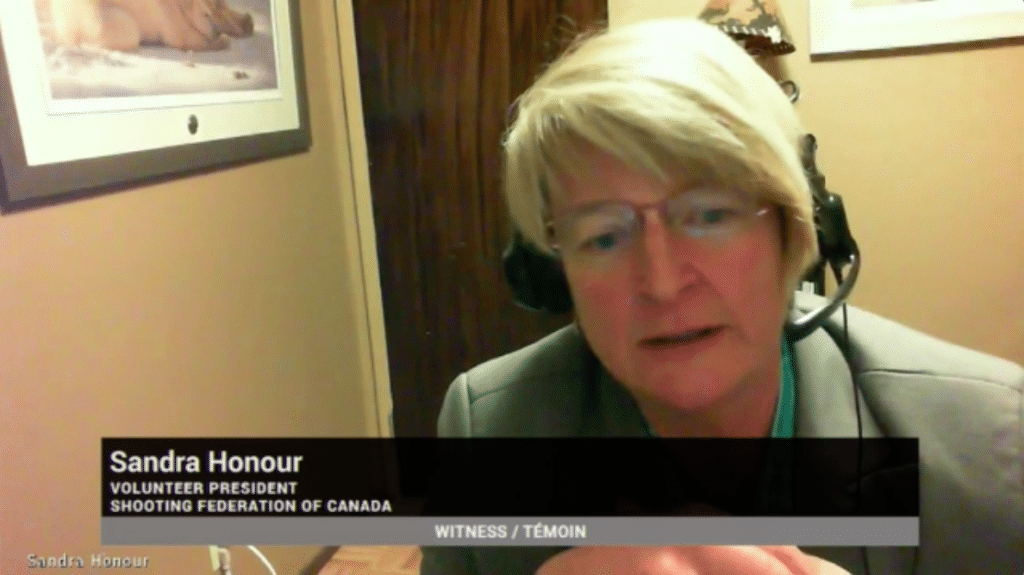 TheGunBlog.ca — Sandra Honour, the president of the Shooting Federation of Canada, said laws such as Bill C-71 that threaten her shooting heritage and culture could push her to run for political office.
Honour, a hunter, recreational shooter and former Team Canada competitor, made the comment last night to the Senate committee reviewing Bill C-71, a draft law against more than 2 million sport shooters, farmers and hunters. She didn't say if she was considering a candidacy for the election in October.
Bill C-71 and other possible gun bans have become pivotal for gun owners, fuelling their opposition to the ruling Liberal Party and driving them to support others.
The bill is the first planned law in a generation seeking to strip federally licensed gun owners of their firearms and make it harder for them to buy, sell, own and transport guns. It would make it easier for the federal police to prohibit firearms.
'Cultural Heritage'
"I consider what I do my cultural heritage," Honour told the committee by video from Edmonton. "And someone is threatening that. If law-makers and -enforcers start to threaten that, that will really bother me, and I may end up having to run for political office because of it."
Honour, elected SFC president in October, was answering questions as part of the final panel of 23 speakers in a meeting that lasted more than six hours.
It was the first session on Bill C-71 for the committee on National Security and Defence. Earlier panelists included a doctor seeking laws to send Honour and other licensed gun owners to jail unless they turn in their guns.
Panelists Against Bill C-71
Assembly of First Nations of Quebec and Labrador: Ghislain Picard
Canadian Coalition for Firearm Rights: Rod Giltaca
Canadian Shooting Sports Association: Tony Bernardo and Steve Torino
National Firearms Association: Sheldon Clare
National Range Officers Institute: James Smith
Shooting Federation of Canada: Sandra Honour
Solomon Friedman, Lawyer
Dennis Young, Researcher
High-Performance Athletes
The Ottawa-based Shooting Federation of Canada is the only government-recognized organization for high-performance athletes competing in rifle, shotgun and pistol sports. It isn't a lobby group and isn't political, Honour said. (The editor of TheGunBlog.ca is a member. See our About page for more disclosures.)
Pistol sports have taken a "huge hit" in the past 20 years or so, Honour said. Many people dropped out because of complex laws that risked turning them into criminals overnight.
Polarize, Prohibit
The Liberals passed the Firearms Act in 1995 to criminalize gun owners who didn't get a possession licence, even Olympians, hunters and plinkers who had been shooting all their lives. It required additional police permission to take guns to the target range.
Bill C-71 is one of the most polarizing pieces of legislation proposed by the Liberal government since it most recently took office in 2015. Liberal members of parliament in rural areas are concerned their new restrictions and prohibitions on hunters and farmers will cost them their careers.
'Really Poor Legislation'
Gun owners tend to vote for every party, including the Liberals. Many could dump them this year and switch their vote to candidates who respect civil liberties and Canadian heritage.
The opposition Conservatives are the only party to consistently reject new gun bans and Bill C-71.
"As an individual Canadian public firearms owner, it is exhausting trying to actually figure out what this act does and all of the implications it has of it," Honour said. "I don't think we should have to have lawyers to tell us whether we're being law-abiding citizens or criminals."
"This is a really poor legislation," she said.
—
Buy your PDF of The Bill C-71 Book to learn more. Every senator has a paperback copy of the Amazon Bestseller.
https://twitter.com/TheGunBlog/status/1097897823494844417
She was fantastic in front of the Senate yesterday!
She has my vote!#TriggerChange#KillBillC71#IAmTheGunLobby

— Tim McShane (@martletman) February 20, 2019
Senate Committee Details
---
Related
See TheGunBlog.ca's real-time coverage of the meeting on Twitter.
See more Bill C-71 coverage here.
Subscribe to get our private e-mails with even more info, intel and insight.